"I saw the angel in marble and carved until I set him free."- Michelangelo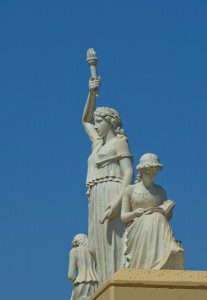 When you think of marble countertops, what comes to mind? Classic appeal, luxury, versatility…stains? All of these things characterize this popular countertop choice for those who are building a new home or remodeling their kitchens or bathrooms.  The beauty of marble and its wide array of natural colors and textures mean that it is not likely to go out of style, and its affordability relative to mid-grade granite makes it all the more appealing to daring homeowners who are willing to put forth the effort to maintain it.  Let's take a few moments to discuss the fundamentals, the pros, and the cons of installing marble countertops in a home. Are they right for you?
All About Marble
The English "marble" derives from the Greek marmaros, which means "shining stone." Anyone who has ever seen a pristine white marble floor or countertop understands how it got its name. The rock itself is metamorphic, composed of a combination of dolomitic limestone variations, and melded by way of intense heat and pressure underground. It is this process that creates the deep, artistic veining for which marble is known. The different types of marble are generally named based on where they come from. For instance, white Carrara marble (shown below), one of the most sought-after choices,  comes from a quarry in the province of Massa Carrara, in Tuscany.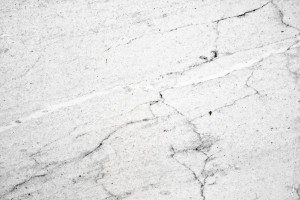 Marble is cut and sold in slabs rather than tiles so as to allow all of its intricate details to really shine. The price of the marble you choose is a factor of the rarity and general quality of the stone, as well the distance required to transport it ($50-$100 per square foot).
Pros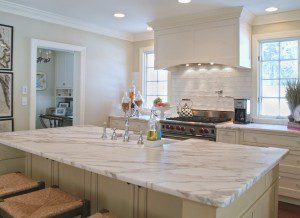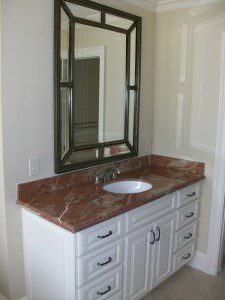 We've already noted many of the aesthetic benefits of adding a marble countertop to your home. The incredible versatility of its look provides both elegance and durability for any style of kitchen or bathroom. There's nothing quite like genuine marble.  If you are someone who is looking for a pristinely white, natural stone, marble is pretty much your only option. Also, marble offers outstanding heat resistance and tends to stay cool, which is particularly suitable for those who like to bake.
Cons
As a soft, natural stone, marble is quite prone to scratches and dents, and if you aren't meticulously careful, acidic foods will stain it fairly quickly.  That means that a splash of wine or a splatter of spaghetti sauce might alter your surface forever.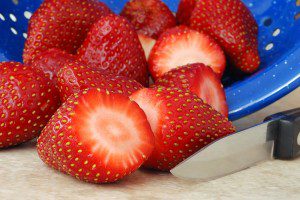 But we have two pieces of good news! First, some people quite like the appearance of distressed marble because it adds character to an important space in their home. It is also not uncommon for people to pour olive oil over brand new marble to achieve the very same patina produced by daily wear-and-tear. But if you don't care for the "well-loved" look and would rather your marble stay looking new longer, our second piece of good news will help you immensely: you can minimize the risk of dents, scratches, and etching by choosing honed marble from the get-go and sealing it bi-annually with a water-based sealant made specifically for marble (for sealing tips-and-tricks, check out this article). Those who are less concerned with etching and more with staining, might choose polished marble instead of honed, as polished marble is less absorbent. It all depends on the way you use your space. 
Maintenance
The day-to-day care for marble countertops consists mainly of wiping them down with warm water and a soft, non-abrasive cloth. You should always keep in mind the delicacy of the stone by using cleaners made especially for marble or limestone if a spill needs more than warm water. Some companies provide a marble sealant in a spray bottle that is extremely useful for spot-treating areas of a space that get more traffic than others.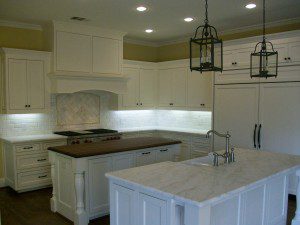 The unique and natural beauty of marble countertops complements most any kitchen or bathroom.  If your heart is set on it for your new home or remodeling project, take into consideration that part of its beauty comes with the little abuses of age.  Marble evolves over time. Ask yourself, "Do I want my countertops looking as opulent as they do now in 20 years?" If so, a better choice for you might be slightly more expensive engineered quartz, which provides a similar aesthetic with virtually no maintenance or fading.  Still, if you appreciate the appearance of aged natural stone and are willing to work to maintain it, marble countertops are a durable and luxurious choice for your home.
If you are in the Fort-Wort area and are considering a new home or a remodeling project, call Robinson builders at (817) 371-7514 today. Our team of experts can help you choose the best options for countertops and beyond to fit your lifestyle.
source: http://www.houzz.com/ideabooks/4376969/list/Kitchen-Counters–Elegant–Timeless-Marble