One thing you learn quickly when building or remodeling a home is that many of the seemingly aesthetic choices made throughout the process are as much about form as they are about function. This is never truer than when deciding on the material and color of kitchen countertops. Countertops must both complement flooring and cabinets and fit the lifestyle and maintenance needs of your family. There are so many attractive options available to homeowners these days, but which one is right for you?
Quartz
Thanks to their low maintenance nature, sleek look, heat and damage resistance, and variety of color offerings, quartz countertops are a popular choice for homeowners. Unlike their natural stone counterpart granite which is quarried directly from the earth and cut into slabs, quartz countertops are engineered with quartz crystals and resin in a factory. This means that the color you see in the showroom will match what arrives at installation. Quartz countertops do not need to be sealed.
Granite
Granite countertops are not one size fits all, and that's what people love about them. They come in two main finishes, polished and honed.  Polished granite is glossy and reflective and brings out the unique character of the granite crystals. Honed granite, on the other hand, is just as smooth but matte and generally non-reflective since it isn't buffed during the finishing process. Many homeowners choose granite because its is 100% natural and no two slabs are alike. Since granite is a porous stone, it will need to be resealed yearly so as to prevent permanent staining and bacteria buildup.
Marble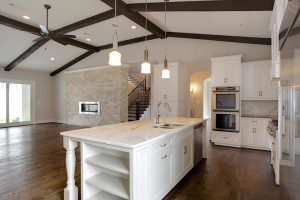 Marble is a common choice for homeowners who want white or light-colored, natural stone countertops. It has a luxurious, elegant appearance and an impressive heat resistance. Because it is a natural stone and particularly porous, marble tends to scratch and dent easily. Acidic foods stain it easily. Over time, it will likely developed a "well-loved" patina that many people find quite beautiful. If that doesn't sound appealing to you but you still want marble countertops, you will need to seal them biannually with a water-based sealant made specifically for marble. For more on the pros and cons of marble countertops, read "Are Marble Countertops Your Cup of Tea?".
Wood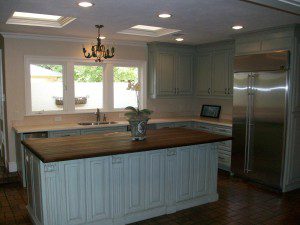 The perfect countertop option for a rustic and frequently used kitchen, butcher block wood surfaces are very heat-resistant and look even better over time. Consider combining wood with other countertop materials for an eclectic, functional vibe.
Stainless Steel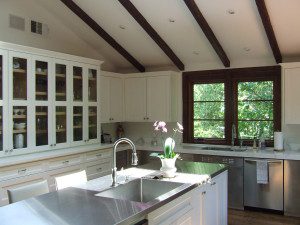 Stainless steel countertops are the darling of modern kitchen design. A staple of restaurant kitchens thanks to easy clean-up, antibacterial properties and imperviousness to heat, stainless steel is a smart, durable choice for residential kitchens. It does show scratches and can make the kitchen feel "cold" if not surrounded with warmer elements. Like wood, stainless steel is often combined with natural stone for great effect.
Countertops are only one element of successful kitchen design. Whether you are remodeling your kitchen or building a new home, Robinson Builders can help take the guesswork out of decisions like which countertops to choose. Because we are a design-build contractor, we are equipped to give you expert advice in both form and function, through each step of the building process. Call us today at (817) 371-7514.