The process of designing a new home is a fun adventure, but the number of choices and dilemmas involved can feel overwhelming. Sometimes during the planning and design stage it is difficult to accurately visualize the finished product, especially when it comes to decisions about ideal focal points for important rooms and spaces.  And even if a homeowner can basically visualize the end result from the 2-dimensional plans, they may still have some misgivings.
A common qualm for those designing a new home involves the choice of focal points in the living room—namely, the placement of the TV and the fireplace. Families traditionally spend a wealth of time in the living room and many times, it is one of the first rooms that guests see.  Both televisions and fireplaces tend to take up visual space due to their size, and in that way they often compete for attention.
Which feature should be the focus? The TV?  What about both? Or neither?  There aren't many concrete rules governing this choice.  A general interior design axiom says that one should avoid multiple focal points in a room, but like all rules, it can be broken for good reason. Ultimately, it's up to the homeowner to consider several important factors and make the decision that makes the most sense for them. Are you facing this dilemma or something similar? Take some time to think about your personal style, your family's lifestyle, and your practical space and budget constraints.  Once you have a solid idea of these things, you should be able to make an informed decision about the appropriate focal point(s) for your room.
Do you prefer a more traditional look? If so, the question of whether you should include multiple focal points in your room is solved for you with a resounding "no!" A classically designed and decorated room should have one impressive focal point to draw the eye and bring the room together. Check out this post on the blog, Worthing Court, for tips and tricks regarding downplaying competing focal points in a traditional space. When it comes to choosing between the TV and fireplace, you should consider your family's lifestyle. How will you use the room most often? Those homeowners who entertain frequently might like the "wow" factor of a truly beautiful, front-and-center fireplace, but if you and your family enjoy watching TV together multiple times during the week, why not orient the room to suit the television? One common choice for homeowners with traditional high-manteled fireplaces is to place the TV directly above it as seen here: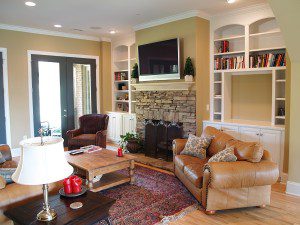 A word of caution: frequent TV watchers who choose this arrangement often report strain as a result of craning their necks when looking up to watch. Another more ergonomically correct option might be to place the TV and fireplace on adjacent or opposite sides of the room, and to choose furniture that discretely swivels to suit the moment. It's up to you.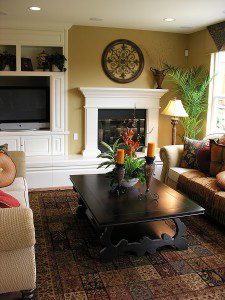 If you are more on the eclectic side of the style spectrum, you can feel comfortable designing a room with more than one focal point, keeping in mind that eclectic doesn't necessarily mean unsettlingly busy. Try a modern, long, low fireplace like the one pictured below and place the TV above it or beside it. This arrangement is more expensive due to its custom design and requires a larger space to gain the desired effect.
At the end of the day, design, and life, is about balance. When you are in the design stage of building a new home, do your best to think about achieving not only an aesthetic balance in terms of focal points, but also a practical balance that will make life as simple and pleasant for you, your family, and anyone who enters your home. As we are a design-build firm, Rick and the team at Robinson Builders is committed to building dreams. Part of that involves working with homeowners to make informed decisions about these oft-overwhelming elements. If you are considering building a home, call us at 817-371-7514 to discuss what we can do for you.