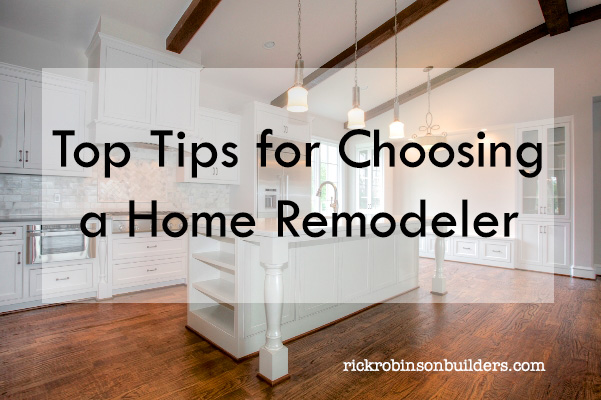 When inspiration or necessity strike and it's time to remodel your home, finding the right contractor can be overwhelming. There are so many companies in the Fort Worth area who are vying for your business. How can you go about picking the one that best suits your situation, style and personality? Robinson Builders has some suggestions.
Start with the budget. Before you begin gathering references and reviews and requesting estimates, begin to decide your financial parameters for the project. Using trusted tools like the Houzz Real Cost Finder and input from friends who have recently completed similar projects can help you decide how much you are willing to spend. Is there wiggle room with that number or would you prefer to stick strictly to the budget? This step is crucial to choosing a contractor who builds within your price-point, but who also has a history of respecting homeowners' budgets.
Ask friends with beautiful homes who did the work. Birds of a feather flock together, and if a friend has a home you love, asking their recommendation for a building or remodeling company may lead you in the right direction. It is also worth your time to scour contractors' website galleries for examples of their work. Do they demonstrate variety? Does their style suit yours?
Read reviews. These days there are plenty of ways to learn more about a contractor's history long before you contact the references they provide. You may love the photos on the website, but will you love their customer service? Check to see if they have a presence on Angie's List, Yelp, and your area's Better Business Bureau website. Do most people seem satisfied with the company's work? Begin making a short list of the companies that satisfy your requirements.
Contact the front runners.  Once you've narrowed down your list to a few companies, start making calls and/or getting estimates. A kitchen or bathroom remodeling project is a significant investment, so be wary of contractors who offer a hasty estimate on the first call without a thorough assessment of your situation. The most reputable home remodelers will come to your home or meet with you in person before throwing out a number. After all, every home is different.
Review the contract before signing. Even if you have a great feeling about your final choice, remember that you have the license to revise the contract before you sign it. Read it from top to bottom to make sure that a) all project specs are correct, b) the payment schedule is what you discussed, and c) you agree with all warranty information therein. If everything looks great, sign the contract and enjoy the process of remodeling your home.
At Robinson Builders, we pride ourselves on educating homeowners on the finer points of home building and remodeling. If you are in the market to build a new home or embark on a home remodeling project, we encourage you to consider Robinson Builders. Call or contact us today about your next project.