If you are building or remodeling your home, you are probably overwhelmed with decisions and planning. Choosing paint colors, building materials, fixtures, etc. can seem endless!  One decision you should not avoid, however, is considering ways to make sure your home will be well-equipped to keep your family safe.  Although there are excellent companies that provide monitoring services, there are also a number of security features you can consider installing during the building process.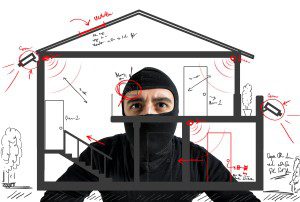 Home Safes:
The slower pace of summer, school break and warmer weather all make summertime a great time to take a vacation.  Unfortunately most of us spend some of this time worrying about the security of our homes and possessions while we're away.  What if someone broke in while you were gone and made off with your car keys (and car!) or grandmother's silver before help could arrive?  What if there was a fire that destroyed your precious family photos or important documents?  This is when a home safe is a great option.  Most home safes are designed to protect their contents from fire, theft or both.
The best place for your safe will depend on the design of your home.  If you want to build a safe into the structure of your home, check with your building professional early in the process to determine the safest and most appropriate place to include the safe.  The master bedroom and closet tend to be the first place burglars look, so you will likely want to consider other areas.  Safes also come in a wide range of sizes, types and prices, so your contractor can help determine the best safe for you according to your budget, what you want to store in it, and the type of protection you require.
While a safety deposit box at a bank offers more protection for certain items, a home safe is a great way to safeguard important items that you want to keep on your own property.  For more information, visit this link from Consumer Reports.
Security Lighting:    
It seems obvious that most crimes occur in areas where the perpetrator thinks he or she won't be seen – someplace dark.  Yet many homes have inadequate outdoor lighting causing doors, windows, porches and the garage area to be hidden from view.  When planning your home, you should not only ensure that basic external illumination is in place, but you may also consider special lighting such as motion detection lighting which only comes on when there is motion nearby.  Sometimes it's enough to scare away a burglar when a light suddenly comes on.
Smile – You're on Camera
Cameras on the market today offer a lot more than the once ground-breaking features of night vision and motion detectors. Thanks to increased Internet connectivity, remote viewing software allows a homeowner to monitor all cameras' views in real time from a smartphone, laptop or tablet anywhere in the world with an Internet connection.  This offers great peace of mind for those who want total assurance that all is well.  Like a home safe, there are a variety of home security camera systems from which to choose.  Your building professional can help you select the best system for your home.
Traditional Around-The-Clock Monitoring
Standard electronic security systems can provide you with protection from break-ins with four important levels of deterrence: yard signs, warning decals, loud sirens and 24-hour monitoring. Homebuilders pre-wire and install the equipment during construction, then it is up to the homeowner to set-up the monitoring contract.  A range of disturbances will immediately be reported to the monitoring service, which in turn, contacts you and emergency personnel if necessary.
Smartphones = Smart Homeowners
Whether you're on vacation or simply going to work, you can now easily access all aspects of your home in the palm of your hand. Most major monitoring companies offer smartphone capability as part of their services, and some companies have even introduced entirely smartphone-controlled systems with no contracts or monthly fees for a third-party monitoring provider. Two examples of this technology are SmartHome, which also offers an array of sensors such as garage door controls, water leak sensors, and climate control systems, and Canary, which offers a sleek, all-in-one design.
During construction, it's important to review your security needs with your builder. Consider the number of floors, the style of your desired doors and windows, how many children and pets you have and whether a garage is attached or detached.  Call several security companies to get quotes for pricing, and then go over these findings with your builder. And last but not least, don't forget to call your insurance agent too! Your new security features should save you money on your homeowner's insurance premiums.
For more information on building and remodeling a home with security in mind, call Robinson Builders today at 817-371-7514.