A uniquely designed, luxurious shower has the potential to be the focal point of a master bathroom. One crucial aspect of creating the desired effect is choosing the right shower enclosure (or none at all). Gone are the days of the ubiquitous shower curtain or brass-framed glass shower door. Now, people who are building a new home or just remodeling an existing bathroom have a variety of stylish shower enclosure options available to them. From the minimalist to the more artfully involved, consider these choices.
No Enclosure- Open Shower
For homeowners with a good deal of open space in their bathroom, a shower sans enclosure sets a modern, clean vibe. In order to avoid water spillage into other parts of the room, the shower floor must be angled toward the drain. Pros: No glass door or shower curtain to clean, helps open up the space visually. Cons: Less heat contained by the shower, less privacy.
Frameless Enclosure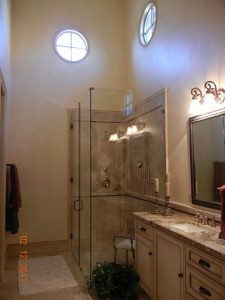 Sleek and versatile, the frameless shower door is a good option for those who want the "feel" of an open shower without the logistical challenges. Pros: Easy to clean (especially if the glass has a textured finish to hide smudges). Cons: Can leak and is sometimes cost prohibitive thanks to thicker glass and skill needed to install.
Framed Shower Enclosure
A framed shower door, whether sliding or swing-type, is a traditional choice. Unlike a frameless enclosure, framed doors contain water well and thus are less prone to leaks. At the beginning of this post we mentioned the old-fashioned brass framed enclosure. These days, you can find framed enclosures in a variety of metallic shades to fit your bathroom's aesthetic. Pros: Tends to keep the heat in better than open and frameless showers, generally less expensive. Cons: Metal seams may look dated and/or take away attention from tile work or striking bathroom fixtures.
Walk-In Shower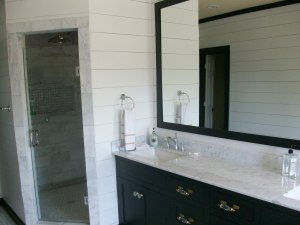 For a little extra privacy and an elegant aesthetic, some homeowners choose a walk-in design for their shower enclosure. Much like a walk-in closet, this type of shower enclosure is like a small room unto itself. Pros: Highly custom, contains heat well, private. Cons: More expensive than other options, requires a good deal of space, may overwhelm the eye.
The growing popularity of open and frameless enclosures presents the opportunity and challenge of picking shower tile and fixtures that exude the desired design aesthetic of the bathroom as a whole. With no shower curtain to hide a bulky showerhead or old and chipped tile work, all elements of the space must be carefully considered when remodeling the bath. Accordingly, it's important for homeowners to choose a remodeling professional with both a keen eye for beautiful design and the technical skill necessary for building a functional bathroom. Using the frameless enclosure as an example, an inexperienced remodeler may not know the best way to install the glass such that leaks are minimized—which has implications for the rest of the space, including floor damage, mold growth and other safety concerns.
Call or contact Robinson Builders today to discuss your next bathroom remodeling project. We love working in the Fort Worth area and look forward to making your spare or master bathroom the best it can be.