What's in your pantry? Soups and canned beans, the kids' favorite cereal, peanut butter, a variety of pastas, rice…perhaps some nice dark chocolate you save for an indulgent after-dinner treat? Whatever you store in the pantry, it's likely that you open it's door at least once a day. It's also pretty likely that the pantry door spends a lot of time closed between meals. Shouldn't it make a unique statement that complements your kitchen?
A boring pantry door is a significant missed opportunity! All too often homeowners fail to realize the big impact such a small part of their kitchen can make on the whole–for very little money at that.  If you are short on time or resources but want to quickly dress up your kitchen in a lasting way, consider going for one of these interesting takes on the classic pantry door.
1. Paint it a bold hue.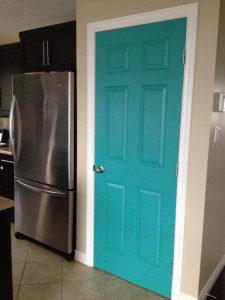 Choose a bright color like the teal pictured here or even a stately matte black. A faux finish can also be striking. This is the easiest and least expensive option but still provides quite an effect.
2.Go classic with French doors.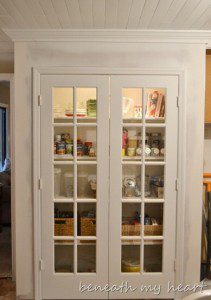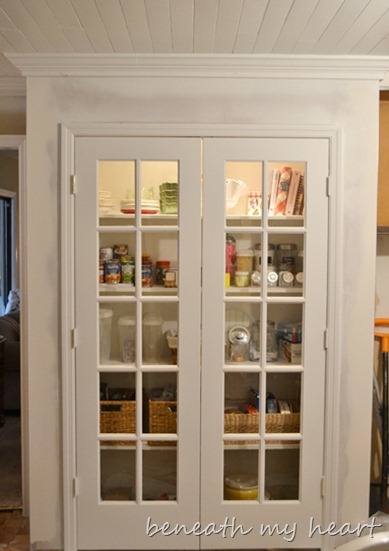 For a traditional kitchen with flair and a larger pantry, French doors win the day. If you don't want the pressure of keeping the pantry immaculately organized, opt for translucent glass rather than transparent glass.
3. Make it a chalkboard.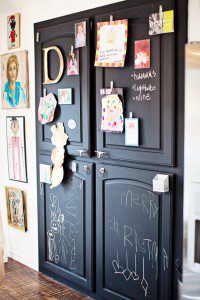 A chalkboard pantry is both fun and functional! Paint it with chalkboard paint and keep plenty of chalk handy for shopping lists, appointment reminders and inspired doodles.
4. Bring the screen door inside.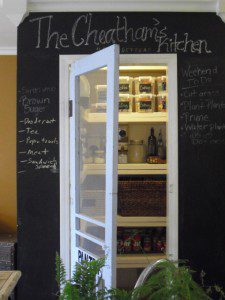 As Texans, we're big fans of refined rural style and vintage upcycling. Using an old screen door as a pantry door adds plenty of Southern charm to any kitchen. These homeowners combined it with a different take on the chalkboard pantry concept.
5. Slide into style.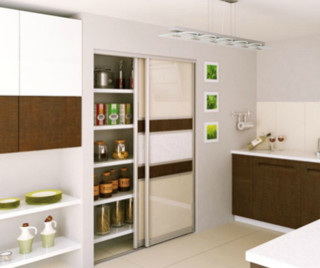 Convenient and sleek, a sliding pantry door is a smart choice for kitchens with space challenges (a swinging door hits the refrigerator or blocks the garbage can…etc). It also makes sense for minimalist spaces that depend on clean lines for the right aesthetic.
Thinking About Complete Kitchen Remodeling?
You're not alone. While we at Robinson Builders believe strongly in the power of small details for promoting powerful interior design, there comes a point when minor enhancements must take a backseat to major remodeling. If you are in the Fort Worth metro and are considering a full-scale kitchen remodel or other home transformation, call or contact Robinson Builders today.