When building a new home or remodeling an existing kitchen, one of the first things many homeowners consider is the kind and color of countertops that are best for them. This is certainly an important decision, as the look of kitchen countertops can set the tone for the whole space. Choosing is no easy task, either, as there is a wide variety of beautiful, unique options on the market today. Which is right for you?
Tile
A classic choice, grouted tile countertops are cost-effective and versatile. And don't think that glazed ceramic tiles are your only option here. For a bit more money, you can opt for stone tiles including granite and quartz. Though tile is durable, cleaning grout is not everyone's favorite task. To avoid headache, choose a darker grout color.
Metal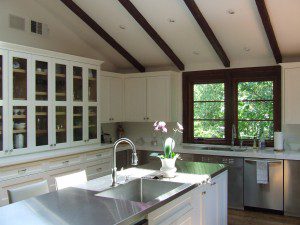 The homeowner with a modern kitchen will go crazy for zinc, copper or stainless steel countertops. Zinc and copper both add character to a kitchen, as they  change color slightly with age (think of an aging penny). Stainless steel is a good choice for a hardworking kitchen because it stands up under heat and pressure but tends to show fingerprints and scratches.
Marble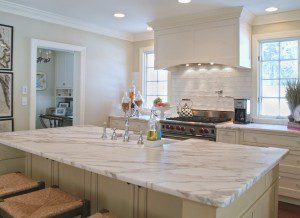 We wrote a whole post on the pros and cons of marble countertops a while back, but here are the high points: Marble is a beautiful, elegant choice that adds an upscale appeal to any kitchen. However, it also requires the homeowner to be meticulous, as marble stains, dents and scratches quite easily.
Concrete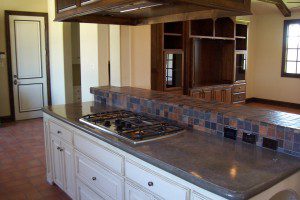 Highly customizable and visually striking, poured concrete countertops are also durable. By adding pigments and coatings, the options for custom concrete countertops are endless. Concrete isn't quite as hard or scratch-resistant as natural stone and it can be a little more costly than other countertops. That being said, it creates a modern, lasting aesthetic. Remember, when it comes to concrete countertops, the quality and experience of the installer is paramount.
Granite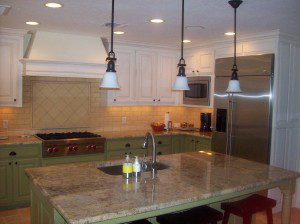 Granite countertops have remained a staple in American homes for quite a while. A natural stone that is affordable and scratch resistant, granite tends to come in darker colors. Its subtle imperfections are what makes it beautiful, but it may be a bit "busy" for some homeowners. It also needs to be sealed every few years.
Quartz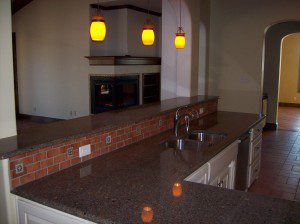 Engineered quartz countertops offer the durability of granite with a wide array of colors and textures. And what's more, quartz countertops are not porous, so it easier to keep them spotless and bacteria-free. Unlike other stone materials, quartz doesn't have to be periodically resealed. One word of caution: quartz is heat-sensitive, so take care to use trivets when cooking.
Bonus! Butcher Block Island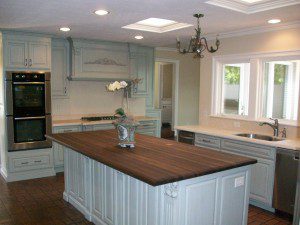 If you have or plan to incorporate an island into your kitchen design, consider topping it with a wooden butcher block. Typically made of walnut, a wood-topped island adds a warm, rustic aesthetic and pairs well with most countertop materials. Be careful, however, to keep it clean and oiled. These measures prevent the harboring of bacteria and the breakdown of the wood.
Countertops can be your kitchen's most functional and beautiful feature. Don't be afraid to mix up the mediums (a stainless steel topped island and marble countertop, for instance). If you are in the Fort Worth area and need kitchen design help or countertop installation, call Robinson Builders at (817) 371-7514. We are remodeling professionals who believe that the kitchen is the heart of the home and should be treated as such. Contact our kitchen design and remodeling experts today!