The warm weather is here in Fort Worth and most of us are ready to enjoy the spring and summer seasons, but is your home ready? Each season brings a new maintenance checklist for making sure that a home can withstand the rigors of the hot Texas sun, help keep your family comfortable, and keep its curb appeal as well. Follow these tips to live the best life in your home this season.
Prepare and Maintain Outdoor Living Spaces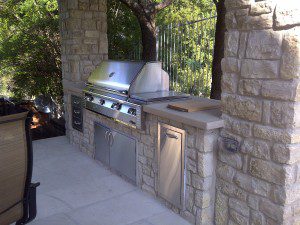 Whether it's an outdoor kitchen, outdoor living room, patio or other exterior space, now is the time to begin preparing these areas for summer (especially if they went unused during last fall and winter).
The first thing to think about when getting an outdoor kitchen ready for the season is cleaning appliances and vents so that you can safely cook and entertain. All-purpose cleaners are generally the way to go when scrubbing countertops, cleaning out the refrigerator and wiping down cabinets, just like you would in your interior kitchen. But unlike the indoor kitchen, you can use the garden hose to spray down the floors of the outdoor kitchen. Same goes for the patio or outdoor living room.
If you are preparing a wood deck for the season, be sure to check for protruding nails and plank rot. Stepping through a rotted board or onto a sharp nail can quickly result in a trip to the emergency room!
Are you not in love with the look and functionality of your current backyard? There is still time to construct the outdoor living space of your dreams. See this article for tips for planning your space and call Robinson Builders when you're ready to start planning.
Check and Clean the Gutters
Leaky, blocked and cracked gutters can cause a great deal of damage to siding and windows. In addition, the poor drainage that results from this lack of maintenance can hurt your home's foundation. Watch this video to learn how to safely clear out the gutters. If you find cracks, sagging sections or any other abnormalities, call a roof or gutter repair professional and consider installing a specialized gutter system.
Clean Out the Dryer Vent and Exhaust Duct
Lint, dust and other debris (like bird nests!) accumulate in clothes dryer vents and can become a major fire hazard if not removed periodically. This is especially important to do before the weather heats up.
Have the Air Conditioning Serviced
To stay cool in the Texas heat, the air conditioning needs to work and work well. Even if you haven't experienced any problems with the AC yet, it's worth calling an HVAC specialist to check out the unit for any potential issues.
Plan Ahead
During this past holiday season when entertaining friends and family, did you run out of comfortable space or think of ways to improve your kitchen or bath? Don't let yourself think the same thing during 2015's holiday season. Now is the time to start planning a new home addition, bathroom remodel or kitchen remodel for guests to admire come fall and winter. Robinson Builders can help.
Call or contact us today to discuss your custom home, new addition, kitchen remodeling, or bathroom remodeling project. We work in Fort Worth and the surrounding areas including Aledo, Weatherford, Colleyville, Arlington, and more.