When putting an addition on a home, there are so many things to think about. Cost, building codes and space are all in the running to create parameters for the way the addition comes together. These challenges are magnified when the home onto which you are building is historic or of a very particular architectural style. It's important that the addition blends flawlessly and maintains the distinct look and feel of the original structure. In order to accomplish this, it's important to hire an experienced home remodeling and renovation professional who makes craftsmanship a priority.
One of Robinson Builders' most recent projects is a beautiful, historic Tudor home in the Ridglea North neighborhood of Fort Worth. Looking for an updated and expanded space, the homeowners need a new kitchen, living room/dining area and a garage.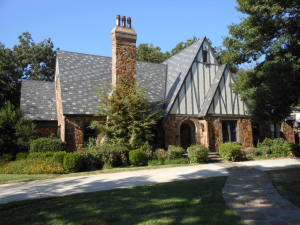 In keeping with the meticulous design of the main part of the structure, our team is carefully installing premium cedar plank siding to bring out the best of the aesthetic.
We'll include more updates on the progress of this Ridglea North renovation, but in the meantime, take these tips into consideration when adding a new addition to your home.
Know (or trust a professional who knows) the building codes in your city or county. In addition to the time it takes to acquire building permits, expect challenges and delays because of bureaucratic regulations. Allot more time for the addition building process than you think you'll need. Also, don't forget to contact your neighborhood association, if applicable, before breaking ground on the new addition.
Examine the reasoning behind the addition. Are you planning to stay in this home forever or are you adding on in order to sell it for more in the future? The answer to this question will determine how many personal touches you'll want to add and even the type of addition itself.
Choose a remodeling company with expertise in both building and design. Plenty of home improvement professionals excel in the technical side of new construction, but fewer understand how to bring a homeowner's vision to life. This takes an eye for design and a wealth of experience.
If you are in the Fort Worth, TX area and are thinking about a new addition for your home, don't hesitate to call the team at Robinson Builders and schedule a free consultation at (817) 371-7514 or online.