In the late afternoon of June 13, 2012, after a hot and muggy day, intense storms descended upon North Texas. Hail the size of softballs fell from the sky and high winds tested even the most solid of structures. Estimated to be the fourth costliest hail storm in Texas history, many homeowners found themselves with extensive roof damage, not to mention shattered windows and glass doors.
When you live somewhere that is prone to unpredictable severe weather like we do here in the Dallas/Fort Worth area, it is especially important to keep weather conditions in mind when building a new home or remodeling an existing one. Some building materials are better than others in terms of durability and impact resistance.  For instance, concrete roofing tiles are a far superior roofing option to alternatives like slate and asphalt for the homeowner who is concerned about hail damage during the summer months.
Underwriter's Laboratories (UL) sets forth four categories of hail resistance for roofing materials, ranging from Category 1 (resistant to hail 1.25 inches in diameter), to Category 4 (resistant to hail 2 inches in diameter). Concrete roofing tiles range from Category 3 (1.75 inches) to Category 4 classification and installing them instead of slate or asphalt even affords some homeowners an insurance break in areas particularly susceptible to hail damage.
All About Concrete Roofing Tiles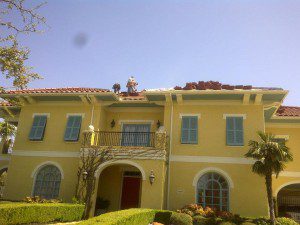 Along with their excellent hail resistance, concrete shingles have a number of advantages over other roofing materials:
Concrete tiles typically last over the entire lifetime of a home. Barring truly catastrophic events like F4 tornadoes and significant earthquakes, they remain steadfast even in winds in excess of 125 miles per hour (cement.org). 
Cost-effective. Though certain types of concrete tiles are more expensive than their slate or asphalt counterparts, the incredible lifespan of concrete makes them the less costly choice over time.
Concrete shingles come in a variety of colors and styles that mimic popular roofing materials (while maintaining the durability of concrete).
If you are building a new home, take concrete into serious consideration when choosing roofing materials and choose a roofing manufacturer that offers a great warranty. Accordingly, do thorough research on your contractor or builder. Even the best roofing tiles will fail to stand up to wind, rain and hail when improperly installed.
Maintaining Your Roof
A roof with concrete shingles requires minimal maintenance, but it is imperative nonetheless that homeowners perform visual roof inspections after significant severe weather events in order to catch minimal damage before it becomes a bigger problem.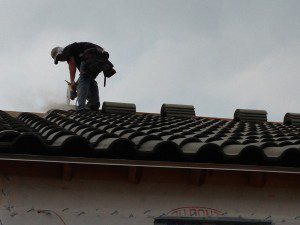 Building a new home? The team of experts at Robinson Builders knows the intricacies and challenges of designing and building new construction in North Texas. From roof to foundation, we adhere closely to building codes and do everything we can to make sure your home can withstand whatever Mother Nature throws at it. Call or contact Rick today to discuss your options.