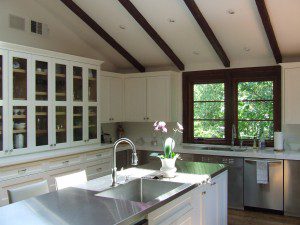 Cabinetry is one of a kitchen's most important and often most expensive assets. So when kitchen cabinets run out of viable storage, start to look dated or simply no longer fit the overall aesthetic of a kitchen, homeowners must make some important decisions regarding the look, layout and price point of new cabinetry.
Replace or Re-face?
Before homeowners dive into a full cabinet replacement, they may consider re-facing the cabinets instead. This is a smart option for those with traditional cabinetry who are really just unhappy with the exterior finish and/or fixtures. According to Tobi Fairley, new cabinets can take up almost half of your total kitchen remodeling project budget. Re-facing costs less than replacement, but doesn't offer the same level of customization and complete transformation. So if you absolutely hate the way your cabinets look down to nuances in woodwork or if the storage space is completely inadequate, cabinet replacement may be the better option for you.
Style: Timeless Over Trendy
If you do choose to replace your cabinets, think about the long-term value they will provide the kitchen. Whether your space is traditional, contemporary or something in between, the new cabinets should have a classic appeal that can easily adapt to future kitchen changes.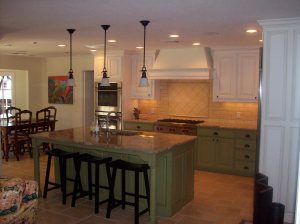 Think of it this way: it's easy and relatively inexpensive to add a new backsplash, light fixtures or a bold accent wall, but it's not so very simple or cost effective to replace dated cabinets. This doesn't mean that you must choose boring or non-specific kitchen cabinetry. Rather, you should look for timeless options within your desired aesthetic. One way to do this is to mix and match popular styles, finishes and colors. For even more interesting visual appeal that spans kitchen aesthetics, consider open or glass front cabinets. Other than those cosmetic aspects, there are three basic door style options to choose from when narrowing down your possibilities.
Kitchen Cabinets: Door Style Options
Traditional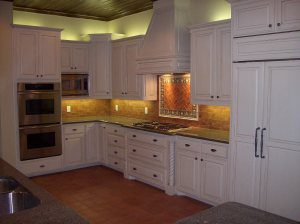 If you want to convey a classic appeal with your cabinets, look for raised-panel doors with furniture style details. Choose bold hardware with an "antique" look.
Flat Panel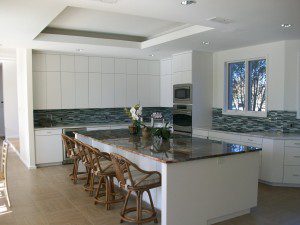 Uncomplicated hardware, white space and clean lines define flat panel doors. These are the choice for many modern/contemporary kitchens.
Shaker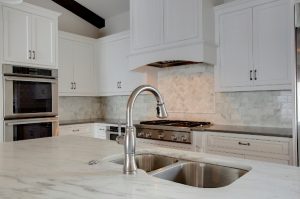 The safest door for homeowners looking to create a timeless look and feel is shaker style. Shaker doors are flat, but not quite as flat as true flat paneled doors and less visually complicated than raised panel doors. They have become increasingly popular in past years thanks to their versatility.
Whether you are planning a full kitchen remodeling project, or are looking to refresh the kitchen cabinets alone, Robinson Builders can help. We believe in your vision and want to make it a reality. If you are in the Dallas-Fort Worth area and need a kitchen design and remodeling expert on your side, call or contact us today.