Have you ever come upon an old piece of furniture, whether in a consignment store, on the side of the road or perhaps in your own attic, that seemed interesting and useful, though perhaps not for its original purpose? "Upcycling," or repurposing, these sorts of items is all the rage for the DIYers in our midst, and the team here at Robinson Builders may or may not have caught the bug. We found this beautiful antique filing cabinet but weren't completely sure what to do with it. Pretty soon, genius struck and we realized that the cabinet would make a perfect vanity for the powder home in one of our newest home construction projects.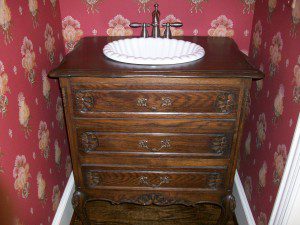 We then found another spectacular old filing cabinet with intricately carved doors that gave a separate recent powder room renovation project truly unique art deco charm.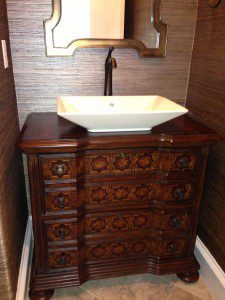 A "powder room" is a staple in many Southern homes. This small restroom without a shower or bath was traditionally the place where polite ladies "powdered their noses." In modern homes, the powder room is generally located on the first floor and suited to the freshening up of ladies and gentlemen alike. The nature of the powder room makes its vanity (including a nice big mirror) especially important. Oftentimes the vanity serves as its focal point. We love this eclectic take on a tradition furniture piece.
If you have a old piece of furniture, fixture or other vintage object that you're just not sure what to do with, check out Pinterest or Houzz for upcycling inspiration. There are a wealth of exciting and creative ideas floating around the web for even the most seemingly mundane objects, so put them to good use! Looking to utilize an old cabinet or other larger piece of storage furniture as part of new construction or a large-scale remodel? Give Robinson Builders a call or contact us online.   We can give you the both the design input and the technical expertise you need to turn that "trash" into a highly functional and reliable treasure.