By the time October rolls around, we might as well accept that the holidays are barreling toward us. If you have family and friends visiting in the coming months, you may find yourself suddenly realizing all the things you'd like to change about your kitchen–the heart of the home. At the same time, you realize that there isn't quite enough time for a full-scale kitchen remodel before guests arrive. The good news is that there are several quick and simple minor updates you can make in the meantime. Consider these four ideas for sprucing up the kitchen before delving into a major renovation in the New Year.
Freshen the Backsplash
Your kitchen's backsplash serves two functions, 1) to protect walls around countertops, cabinets and fixtures and 2) to provide aesthetic flair. This means that the backsplash material must be stain resistant and easy to clean while still adding that pop of style to match the rest of the room. Some options include classic ceramic tile, glass tile, metal (copper, stainless steel, etc), wood and even chalkboard! One way to add a really unique touch is to use some combination of these for your backsplash. In this home, we used glass tile in varying shades of blue to bring out the blue hues in the granite countertops. While it may seem like a simple DIY task, we recommend hiring a professional to retool the backsplash, as mistakes are costly and take time to fix–especially when working with expensive or limited materials.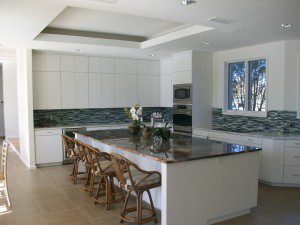 Change Out Fixtures
Old and decrepit light fixtures, cabinet hardware and sink faucets are a few kitchen elements that are easy for homeowners to overlook (they blend into the scenery after a while). That being said, they are also some of the easiest elements to update and can have a significant impact on the look and feel of the kitchen. Try installing a modern faucet or a charming traditional chandelier. You'll be surprised at the difference.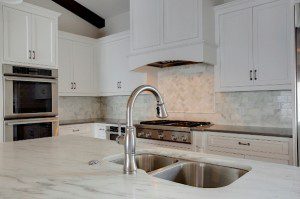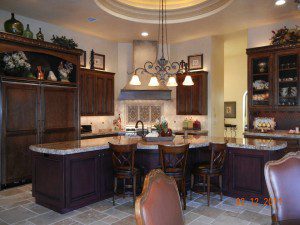 Rethink Window Treatments
Does your kitchen boast large or numerous windows? Save on cooling bills and add a little extra softness to the space with window treatments. These might be blinds, venetian shades or curtains in any number of styles. No matter what you choose, it is sure to be a great addition to the overall ambience. (image: House of Wood)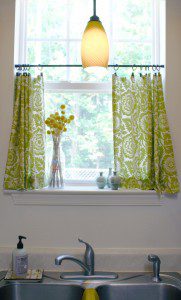 Try Out a New Color or Faux Finish
Simple, but effective, a fresh coat of paint may be just what your kitchen needs.  Maybe opt for a color that you've always loved but were a little afraid to try. The best thing about paint is that you can always change it later. If you are a fan of the "antique" aesthetic, consider adding a faux finish to the walls, cabinets or island in your kitchen. Doing so can be a fun DIY project or a job for a professional painter (depending on your artistic prowess and the size of the space you'd like to finish).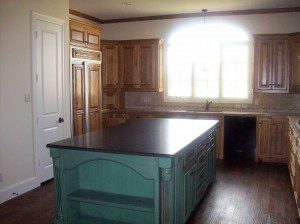 Install New Countertops
In addition to replacing cabinets and range covers, Robinson Builders recommends new countertops for those homeowners who want to make a big change in less time than a full-scale renovation. The wide variety of colors and materials out there make countertops highly customizable, so you are sure to find the perfect option. Working with the design experts at Robinson Builders can make the process simple and our workers provide quick but thorough and artful countertop installation.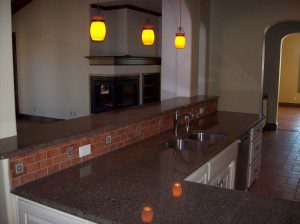 To talk to a Fort Worth kitchen design and remodeling expert at Robinson Builders about your next kitchen project, call us today at 817-371-7514 or contact us online.