As we enter the holiday season, you will probably find yourself doing a lot more cooking, baking and entertaining. All that extra time spent in the kitchen may bring up in your mind ways in which the space could serve you or your sense of style better. Whether you feel you need more countertop space, updated cabinets, or a new kitchen entirely, keep these hot design ideas in mind as you plan your 2015 kitchen renovation project.
1. Faucets and Fixtures with Warm-colored Metals
(image source: Austin Sweets)
Homeowners have increasingly moved away from stainless steel when it comes to kitchen fixtures and hardware in recent years. We at Robinson Builders foresee that trend continuing as more of our clients look for sinks, faucets and light fixtures with copper and bronze finishes. Those metals tend to give off an inviting vibe and pair well with rustic decor.
2. Artistic Range Hoods
The purpose of a range hood is to keep the air in the kitchen clean and to prevent grease from building up on walls and cabinet surfaces. Its fan extracts steam and smoke generated by cooking so that a kitchen's air quality stays safe. As one of the more important appliances in your kitchen, it deserves to look sharp. The great news is that there are plenty of attractive range hood options to fit your kitchen's aesthetic.
Many choose to have the hood blend in seamlessly with the color and style of the cabinets. Others prefer a stainless steel industrial-looking hood like one you might find in a chef's kitchen. These days, however, modern, minimalist range hoods are gaining major ground.
3. Unique Backsplashes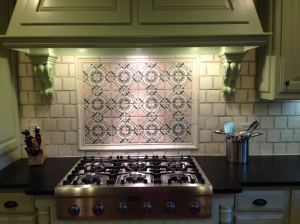 A good backsplash performs two functions: 1) protecting walls from "splashing" food and drink and 2) adding to the kitchen's desired aesthetic. Whereas we used to see an abundance of solid colored ceramic tiles as the primary backsplash material, today's homeowners have lots of options. Brick, metal, stone, concrete, and multidimensional glass tiles are attractively offbeat choices. For an especially personal, artistic touch, consider hand painted tiles like the ones we installed in this recent project above.
4. Cabinets with Clean Lines
Right now we see many clients who want either very light or very dark cabinets and fewer who want middle-hued woodgrain. In terms of design, it seems to be all about the "seamless" look. This is evidenced by the growing popularity of shaker style and flat-panel cabinetry. Open and glass-front cabinets are also sought-after.
5. Pot Filler Faucets and Hot Water Dispensers
Homeowners are always looking for ways to make their kitchens more efficient and intuitive. That's why task-specific faucets are becoming increasingly popular. A pot filler faucet, or pasta arm, allows the chef to fill pots with water at the stove. Hot water dispensers give boiling water on demand, making tasks like grabbing a quick cup of tea easier.
6. Touchless Technology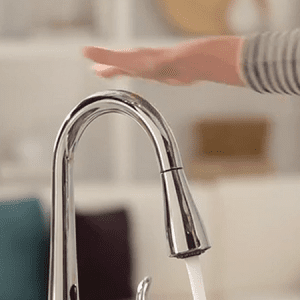 (image source: Best Sinks and Faucets)
Long available in public facilities, more and more people are taking advantage of touchless faucets, paper towel dispensers and even trashcans in their very own homes. In addition to being more sanitary, touchless appliances tend to be energy efficient and time-saving.
Are you in the Fort Worth area and ready for a kitchen reboot? Robinson Builders can build you the kitchen of your dreams with these and other cutting edge architectural details. Contact us online or call our kitchen remodeling experts today at (817) 371-7514.